Newport Beach Police Department
Home
Menu
The Canine Unit consists of two officers and their canine partners.
Meet Our K9s
Our current Canine Unit includes Officer Eric Rosenberg with K9 Ryder and Officer Joe De Julio with K9 Goose. Our K9s (or police service dogs) receive extensive training in the areas of handler protection, suspect apprehension, building and area searches, evidence searches, tracking in both urban and rural environments, obedience, narcotics detection, and public relations demonstrations. They receive their certification from California Peace Officers Standards and Training (POST) on an annual basis.
Officer Eric Rosenberg and K9 Ryder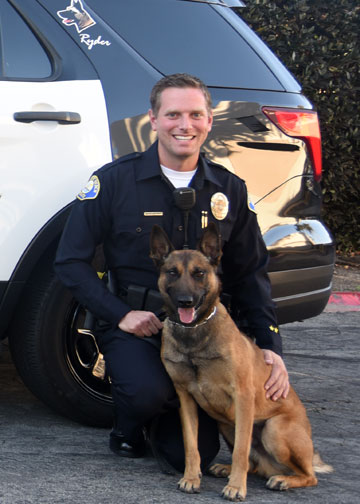 Officer Rosenberg started at the Newport Beach Police Department as a community services officer in 2007 and returned to the Department as a police officer in 2015 after serving with the City of Santa Barbara. He joined the Canine Unit in July 2020.
K9 Ryder is a male Belgian Malinois, born in Germany.
Officer Joe De Julio and K9 Goose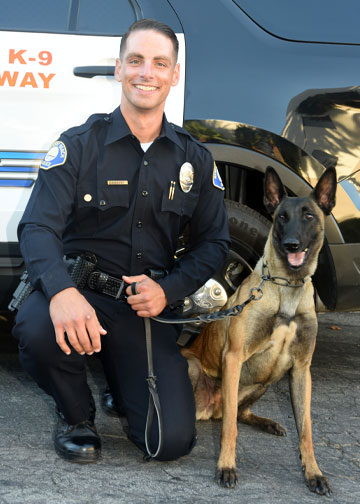 Officer De Julio started at the Newport Beach Police Department as a cadet in 2007 and graduated from the Police Academy in 2011. He joined the Canine Unit in August 2021.
K9 Goose is a Slovak Malinois and the first female K9 at our department.
Safety around Our Police Service Dogs
As with any dog, you should never try to approach a police service dog without getting permission from the handler first. Our dogs may be sociable and friendly, but they are not pets. They are working dogs and look to their handlers for approval to relax and be petted.
If you see one of our Canine Unit marked vehicles around town, do not try to touch the vehicle or interact with the police service dog through the window. Our dogs consider these vehicles their homes-away-from-home and may bark loudly or become protective as you approach.