Newport Beach Police Department
Home
Menu
Bicycle Ownership and Security
We encourage all community members to register their bicycle (for free) at www.project529.com/newportbeach.
Capture all of the important information about your bike from your computer or smartphone.
Help end bike theft. Be sure to check the 529 Garage registry to make sure that a bike you are considering buying wasn't reported stolen.
Help get your bike back. Thousands of bicycles are recovered by law enforcement and community members. If your bike is registered, it's easy to get it back to you.
Report a stolen bike using our online reporting system or by calling our non-emergency line at 949-644-3717. You can also start an alert at Project 529, if your bicycle is registered there.
Always lock your bicycle when left unattended
Maintain your bicycle information somewhere easily accessible
Report your bicycle if it is ever lost or stolen
Maintain an updated picture of your bicycle
Bicycle Safety Checklist (prior to riding)
Brakes
Tires
Reflectors
Lights
Saddle/seat
Handlebars
Pedals and crank
Chain
Gears
Frame and Forks
Wheels
Bicycle Lock
Bicyclists share the road with cars, trucks, motorcycles, pedestrians, and other cyclists.
Over 40,000 bicyclists were injured in traffic each year over the past ten years.
Approximately 700-800 fatal bicycle accidents occur each year. Of those, 80-95 percent were not wearing helmets.
Source: California Vehicle Code, National Highway Traffic Safety Administration (NHTSA), and www.helmets.org.
More facts and information on helmet use can be found at www.helmets.org.
Guidelines for Riding Right
Do
Be predictable when riding
Wear a helmet and eye protection
Wear bright-colored clothing
Carry identification
Obey all traffic laws
Ride with traffic
Ride in the bicycle lane (whenever possible)
Ride to the furthest right as can safely be done (when traveling at a lower speed than automobile traffic)
Use hand signals
Use a front head lamp and red tail lamp at night
Maintain and clean your bicycle often
Don't
Ride too fast for conditions
Ride if you have consumed alcoholic beverages
Ride on the sidewalk
Use a cell phone while riding
Wear headphones while riding
Ride on public piers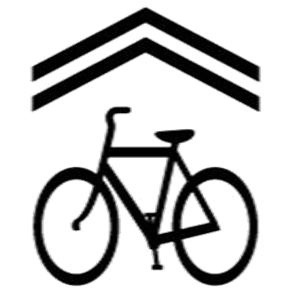 What is a sharrow?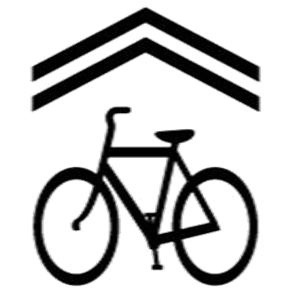 Sharrows are roadway stencils used to identify streets that are to be shared by vehicles and bicycles.
Sharrows are also intended to alert drivers of the presence of bicyclists in the roadway and encourage caution. The benefits of the use of sharrows are to:
Assist bicyclists with positioning in a shared lane with on-street parallel parking, in order to reduce the chance of a bicyclist's impacting the open door of a parked vehicle.
Assist bicyclists with positioning in lanes that are too narrow for a motor vehicle and a bicycle to travel side by side within the same traffic lane.
Alert road users that bicyclists are likely to occupy the same lane.
Encourage safe passing of bicyclists by motorists.
Reduce the incidence of wrong-way bicycling.
Where have sharrows been added?
The City of Newport Beach has added shared lane markings (SLM), or "sharrows", on E. Coast Hwy (SR-1) between MacArthur Blvd. and Poppy Ave. The project is part of ongoing efforts to improve bicycle safety in response to the number of bicycle-involved collisions throughout Newport Beach.
Are bicyclists allowed to ride in the roadway?
There are certain exceptions in the California Vehicle Code that allow bicyclists to take an entire lane of travel whether sharrows are present or not.
California Vehicle Code: 21202(a)
Any person operating a bicycle upon a roadway at a speed less than the normal speed of traffic moving in the same direction at that time shall ride as close as practicable to the right-hand curb or edge of the roadway except under any of the following situations:
When overtaking and passing another bicycle or vehicle proceeding in the same direction.
When preparing for a left turn at an intersection or into a private road or driveway.
When reasonably necessary to avoid conditions (including, but not limited to, fixed or moving objects, vehicles, bicycles, pedestrians, animals, surface hazards, or substandard width lanes) that make it unsafe to continue along the right-hand curb or edge, subject to the provisions of Section 21656. For purposes of this section, a "substandard width lane" is a lane that is too narrow for a bicycle and a vehicle to travel safely side by side within the lane.
When approaching a place where a right turn is authorized.
The presence of sharrows does not absolve bicyclists from their responsibility to operate their bicycles safely and within the confines of the Vehicle Code. Violations related to stopping at posted stop signs, stopping for red lights at signal controlled intersections, etc. are enforced and are unaffected by the presence of sharrows.
The goal of the Newport Beach Police Department is to help promote the safety of bicyclists using the roadways, and to encourage cooperation and sharing of the roadways between bicycle and motor vehicle traffic.
Information for Kids and Parents
We have developed a Bicycle Safety guide for parents. It contains the following topics and can be a great resource. Please partner with us to help your child be a safer bicyclist. A Bicycle Rider's Safety Contract is also available to ensure that your child has the knowledge to be a safer bicyclist.
Be a "Roll Model"
Deciding who rides with your child
Deciding where your child can ride
Distractions can be deadly
Sharing the road: same roads, same rules, same rights
High-risk bicycling situations for children
Quick tips for bike safety
Bicycle Safety - A Parent's Guide
Bike Trails in Newport Beach
Click here to see the City's Bike Trail Map.